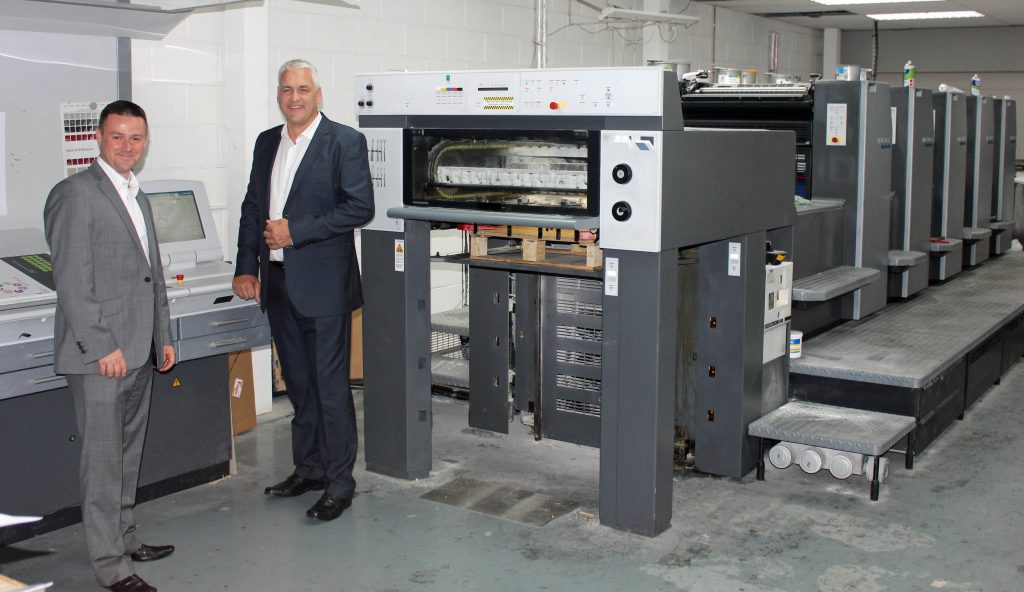 City printer Woodrow Press Ltd, Surrey Quays, SE16, has expanded its press firepower with the addition of a second Heidelberg SM74 five-colour press. The new machine joins an existing five-colour SM74 and replaces a two-colour machine. The new press has been equipped with PressProfiler from Prepress UK from day one, and the powerful and easy to use ink coverage and ink zone calculation solution will also be added to the existing five-colour press.
PressProfiler examines digital files received from any workflow and generates ink key pre-setting data to save set-up time on an offset litho printing press at job changeover. A single copy of PressProfiler can feed multiple presses. Whilst the pre-press data can be fed directly into the press console of the newer press, the integration with the existing SM74 will involve the profiling software working in conjunction with Prepress UK's unique CardWriter package.
The package allows press minders to check preview images of the job they will be running without leaving the press, before loading the pre-setting data into the printing machine. Accurate ink key pre-setting gives a shorter make-ready, uses fewer run-up sheets, and takes less time before correct colour is achieved on the press. The consistent data also helps to achieve highly consistent printed results.
Commenting on the decision to add PressProfiler, Martin Ince, Production Manager at Woodrow Press, said: "The addition of the second five-colour press means that we have the essential back-up and additional capacity that we needed to move forward as a business. The decision to add PressProfiler was an essential move in our opinion: speed, reduced waste, and greater colour consistency are all critical issues for any printers. This package does it all for us, and at a fraction of the cost of similar kit from the press manufacturer."
Some 80% of the work undertaken at Woodrow Press comes from the financial sector, with investment banks being a major source of business. "We have to work hard to win business in this area, but we focus on providing a quality service, quality print, and a fast turnaround. We like to build strong relationships with clients – it benefits both the supplier and the customer in the long run," said Rob Allen, Managing Director of Woodrow Press.
"The addition of PressProfiler makes a real difference to the way we produce print," adds Rob Allen. "The addition of PressProfiler and a densitometer really does start to turn printing into a science rather than the more traditional "black art". I am convinced that this combination of press and pre-press data will help to fuel the next phase of growth for our business."
Woodrow Press is closing in on a £2 million turnover this year with a team of 12. The business has shown steady growth in recent years and a similar increase in profits. The company began life in 1979 with premises under the Arches of London Bridge.
Commenting on the success of PressProfiler, Nic Chapman, Sales Director of Prepress UK, said: "It is always a delight to see both managers and operators welcome PressProfiler with open arms. Whilst second-user presses often represent excellent value for printing companies, it is getting more and more essential for printers to be able to offer three critical elements: faster job changeover due to ever decreasing run-lengths, reduced wastage due to the cost of both inks and substrates, and greater consistency of print quality because that's what the customer demands. PressProfiler helps to deliver all three for a very economical price – certainly when one compares its cost against similar equipment from the press manufacturer.