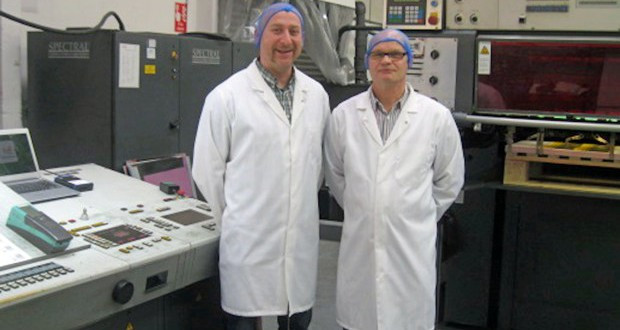 Jem Packaging, Norfolk-based printed packaging firm, has installed a PressProfiler server package from Prepress UK.
PressProfiler examines digital files, including CIP3, TIFF or PDF, received from any workflow and generates ink key pre-setting data to save time set-up an offset litho printing press at job changeover.
At Jem Packaging the profiling software works in conjunction with Prepress UK's CardWriter package. This allows press minders to check preview images of the job they will be running without leaving the press, before loading the pre-setting data into the printing machine.
Accurate ink key pre-setting gives a shorter make-ready, uses fewer run-up sheets, and takes less time before correct colour is achieved on the press.
Jem Packaging said PressProfiler is enabling the East Anglian-based packaging provider to almost half the make-ready times on its Heidelberg Speedmaster 72 press.
Run-lengths at Jem Packaging are typically around 2,000 to 3,000 sheets mark, though each sheet sees a pack repeated several times across the B2-size.
Longer run work at the company could stretch to 50,000 sheets.
Jem Packaging handles work from pre-press right through to a wide range of finishing operations and warehousing when required by a customer.
Peter Horne, print manager at Jem Packaging, said: "Dramatic savings on make-ready were accompanied by a much more straightforward approach to good colour on the press. The standard ink profile that the system provides us with gives us a straightforward, known starting point. Even if we do have to make adjustments for a particular job – perhaps to achieve a special corporate colour – we know how to tweak things without getting too far away from the standard. We are now swiftly into good colour on every job, allowing us to make savings on materials as well as time."
Nic Chapman, Prepress UK sales director, said: "Jem Packaging is precisely the sort of business that our PressProfiler product was created for. The hardware and software combination that we offer comes at a significantly lower price than the press manufacturers own package, and the business can see a real productivity benefit from day one."
Jem Packaging produces food packaging work for a number of high-profile food producers as well as packs for a major tool supplier.